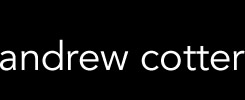 biography

Andrew is originally from Troon, in Ayrshire and has a degree in French and Philosophy from The University of Glasgow. Realising that this qualified him for very little, he began working in the sports department of Edinburgh-based radio station Scot FM in 1997.
Three years later he moved to London, initially working as a freelancer with both BBC Radio and Sky News. He then joined the BBC full-time in 2000.
His work there involved presenting sports bulletins on Radio 2, Radio 4 and, of course, 5 Live as well as being Chris Moyles sports monkey on Radio 1. He also spent five years presenting the sport on The BBC News Channel.
Life as a commentator in golf and rugby began in BBC Radio but he moved to work primarily for BBC TV in 2004. He has covered countless golf tournaments including all four majors and The Ryder Cup as well being a familiar voice on The Six Nations and Rugby World Cup.
While golf and rugby are his two main sports, Andrew also commentates on tennis, athletics and The Boat Race for BBC Television and has commentated at both the Beijing and London Olympics as well as the paralympics for Channel 4.
Now a freelance broadcaster, Andrew has also worked for ESPN, Eurosport, TWI and Sky.
As for his own sporting prowess, his brief moments of glory were playing golf for Scottish Schools and Scottish Universities and his grandfather played rugby for Scotland.
After a decade living in London, Andrew has recently escaped to Cheshire but when not there, on a golf course or at some stadium, he's probably up a mountain.
recent tweets